Album Art / ARRIVAL
What's This cover all about?
Our favourite ABBA front cover features our 4 heroes inside a helicopter - (said chopper is actually a Bell 47, the first helicopter designed specifically for civilian use) presumably at the end of the day with a glorious sunset behind the camera man. Shot at Barkarby Airfield north-west from Stockholm City. The golden light of the setting sun gently lies across their faces giving softness to the picture.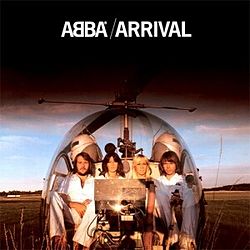 ABBA wanted us to know that they were now big league players, and the helicopter was also symbolic of this. At the time, a music journalist commented that "it was an unfortunate image because ABBA were there on the cover, untouchable, behind glass and ready take off back to their closely guarded private world. They seem to be saying 'we are removed from you"

Indeed it was in sharp contrast to their previous jolly album covers, and they now seemed to be saying that they wanted to keep a distance between themselves and their public.

This album saw the first use of the now famous Swiss style ABBA logo. At this point Abba was huge worldwide and, in a stroke of genius, they came up with this album theme that was reinforced every time they would helicopter into an airport to promote the album.

Back to the Arrival album, and with greater success came a bigger budget, and the presentation quality of this LP was superb for the time (1976). The cover was a good quality card, while the inner gate fold sleeve, with another great shot of ABBA outside the chopper, was backed with the song lyrics. Quite unusual in those days.
ABBA had indeed 'arrived'.