❤ Revival Press Review 2
A Brilliant Production
Doesn't it feel like ABBA has been in our lives forever? From one generation to the next, with those strikingly catchy pop tunes being handed down like heirlooms? There are so many tribute acts that dutifully keep ABBA alive. The one I saw on Saturday was ABBA Revival, a Yorkshire-based group that has beaten 33 other ABBA Tribute's to become the Official UK Number One winner of the National Tribute Music Award for three years in a row.
Abba Revival is proud to be selling out at small venues, top-end corporate gigs, and international tours. In other words: any venue, any audience, and here in Wetherby.
ABBA continues to be a treasured and family-friendly ensemble whose music is greatly appreciated by all ages. ABBA Revival has been dedicated to continuing these values.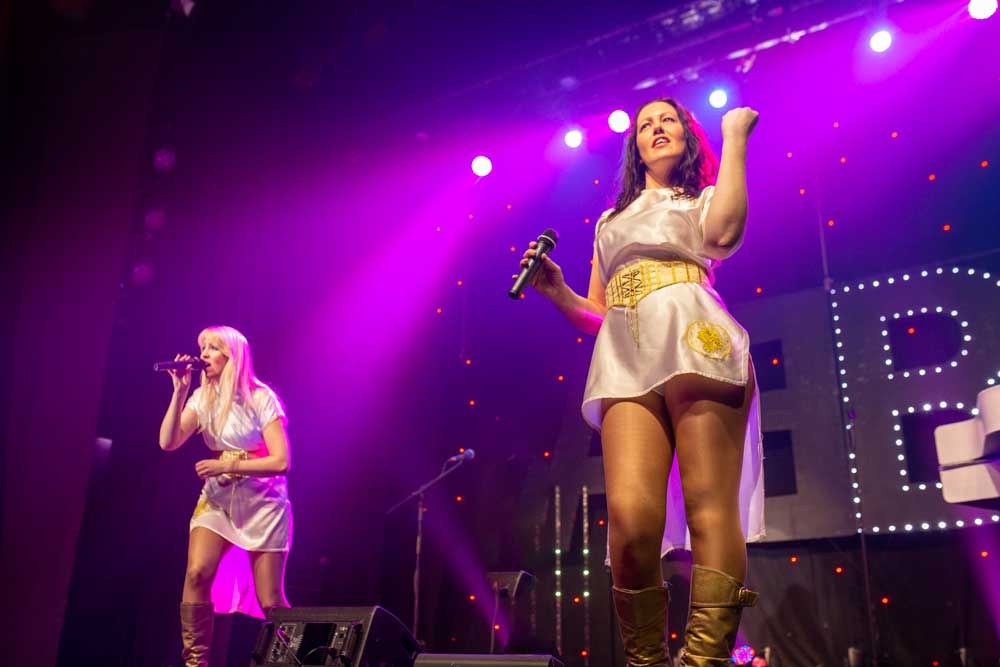 Lisa, who sings the part of Anni-Frid, says: "It's not just a case of singing the songs; we have to become ABBA."
With lots to consider, I attended the show with wide-open eyes. The band members assumed their respective characters, even adopting Scandinavian accents.
They were able to tell us stories. They created an emotional connection with the crowd, inspiring many to dance in the aisles. Waving arms, tapping feet and smiling faces were infectious from the first song.
The curtains opened to bright and colourful lights, lasers and strobes, which filled the stage, spilling over their white piano using a prelude of familiar ABBA songs which were drifting from the speakers, all enhanced by artificial smoke.

The band appeared wearing dazzling costumes. Their haircuts were almost identical to the original act. They immediately engaged with the crowd before jumping straight into 'Waterloo'.
Theirs was an impressive synchronicity, in each and every beautifully choreographed movement while the lighting flashed in beat with the music. The harmonies, stunning and enchanting, transported me back to that first time I heard ABBA sung on stage. It was difficult to tell this from the real thing.
It didn't take any time for the audience to be waving, clapping, singing and, yes, dancing along as ABBA Revival made their way through a set list of those absolute classics, Mama Mia, Super Trouper, Knowing Me, Knowing You, Honey, Honey, Dancing Queen and so many more. The balance was epic and absolutely ABBA.
Everyone said afterwards that they found this show the most authentic tribute to ABBA they'd heard.

A brilliant production, choreography, costumes, lighting and immaculate musicianship.
The Newsroom - JPI Media