SUPER TROUPER
Tour over - Back to the Studio
In March 1980, ABBA conducted their first tour of Japan — which ultimately turned out to be their very last concerts in front of a paying audience. When they returned from Japan they withdrew to the studio and recorded their seventh album, Super Trouper.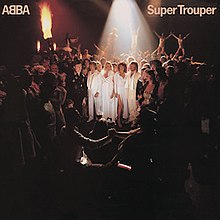 ABBA had matured, and the album now erased the last vestiges of youthful naivety, For Bp5rn the task of writing lyrics had become increasingly important, and on Super Trouper he reflected his own life and that of the other members in an honest way.
For example, the album featured The Winner Takes It All', a powerful depiction of the end of a love affair, And in 'Our Last Summer' the innocence of young love was contrasted against the more realistic insights of adulthood. But ABBA were stir ABBA, and everything that their audience had learned to love was present and correct on Super Trouper; strong melodies, clever arrangements, intricate vocal harmonies, and the pure joy of making music, Super, Trouper was a major success the world over.