THE VISITORS
An Epilogue
The time had come to enter the Eighties, and at the same time the ABBA era was drawing to its close.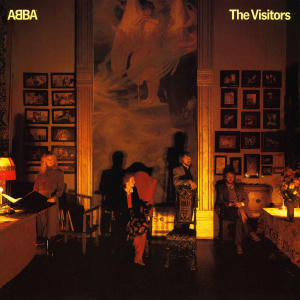 The group's eighth and final studio album, The Visitors, was released in November 1981. It was an album marked by sadness and dark moods with some of the songs being melancholy reflections on interpersonal relationships The single 'One Of Us' was ABBA's last major international hit.
In 1982, the group began work on a new album, but cancelled the recording sessions after lust a few songs. Instead a double compilation album, entitled The Singles — The First Ten Years, was released, along with two new singles: The Day Before You Came' and `Under Attack'. It wasn't as much fun being ABBA anymore, and the group decided to take a break so that Born and Benny could write the musical Chess together with lyricist Tim Rice, in the meantime, Agnetha and Frida would record solo albums. But after a few years all four members felt that ABBA's time had passed, and there never was a reunion. The book had been closed on the final chapter in the ABBA saga.