VOULEZ-VOUS
Do you want to ?
Out of all the ABBA albums, none was more difficult to do or took longer to record than Voulez-Vous. Work began in March 1978, but the album wasn't completed until a year later. With each album ABBA demanded more of themselves, and during the Voulez-Vous recording period many tracks would remain unreleased.
But after much work, including a song writing trip to the Bahamas, in the end there finally was an album.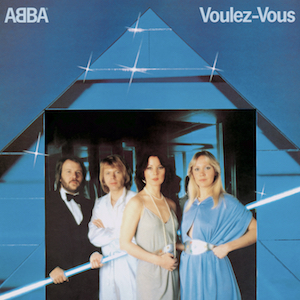 ]]Several songs were marked by disco rhythms; with tracks such as 'Does Your Mother Know' and 'Voulez-Vous', for example, ABBA strengthened their popularity on the dance floors. But the group always aimed for variation on their albums, as ballads such as 'Chiquitita' and 'I Have A Dream' proved. ABBA had donated all royalties from 'Chiquitita' to UNICEF, on the occasion of the United Nation's declaration of 1979 as The Year Of The Child, The song was first performed at a televised gala broadcast from the United Nations Headquarters in New York City, where a number of other world-famous acts also appeared. Since then, 'Chiquitita' has provided a steady stream of income to UNICEF.
A few months after the Voulez-Vous release, ABBA embarked on their first tour of North America, followed by a couple of weeks in Europe. In conjunction with the tour they released a brand new disco single: 'Gimme! Gimme! Gimme! (A Man After Midnight)'.