THE MOVIE/THE VIDEOS
Lights, Camera, Action!
Lasse Hallstrom directed ABBA — The Movie, filmed during the tour of Australia in 1977.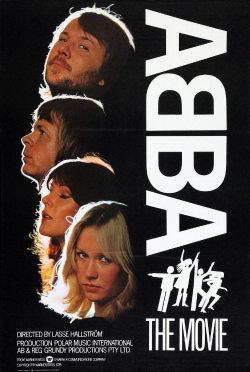 The main motivation behind the film was to show ABBA in live performance, so that the many fans around the world who did not get to see them on the tour could still experience them in concert. But the director felt that the film also needed a plot in order to make it more than an ordinary concert film. Lasse came up with the story about the Australian radio disc-jockey who gets the impossible assignment to secure an interview with ABBA during the tour. He follows them from town to town and is constantly faced with new setbacks. ABBA - The Movie captured the group when the Australian mania was as its peak, and the film became a powerful documentation of ABBA, both as a live act and as a phenomenon.
ABBA helped pioneer the art of the rock video, or promo clips as these short films were called in the Seventies. The man behind the clips was an up-and-coming director by the name of Lasse Hallstream.
Lasse's budget for the ABBA videos was fairly small, yet with simple means he managed to make videos that glued audiences to the television screens. It was especially important that the ABBA members themselves were highly visible. This contributed to the success of the films in Australia, where the videos for 'I Do, I Do, I Do, I Do, I Do', 'SOS' and 'Mamma Mia' led directly to group's major breakthrough. One of Lasse's smartest ideas was his close-up shots of the members in different combinations of pairs, with one member filmed in profile.