TWO MEN IN A WRITING HUT
Where the Early Magic happened
The remote island of Viggsti in the Stockholm archipelago was the location for the summer houses owned by the four ABBA members.
The group's manager, Stig Anderson, was actually the first to buy a house on the island, but in the early Seventies the two ABBA couples followed suit. Both the group and Stig Anderson's family spent most of their summers out on Viggsti, and their idyllic life there became an important part of the mythology surrounding ABBA.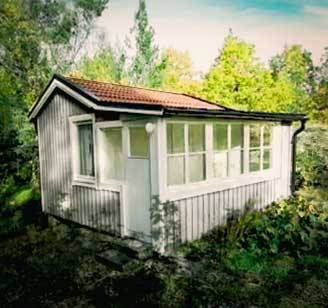 Bjorn and Agnetha's house came with a small cabin where there was just enough room for a piano, a guitar and a couple of chairs. Bjorn and Benny would often withdraw to the cabin to write songs - it almost didn't matter whether it was a hot summer or a freezing cold winter; when they needed peace and quiet there was no better place then the song writing cabin. Here, many of ABBA's most famous songs were written, for example 'Ring Ring', 'Waterloo', 'Fernando' and 'Dancing Queen'.