ABBA Tribute Costumes
A triumph of Spandex
When we think of ABBA, one of the first things that come to people's minds is the band's flamboyant and avant-garde wardrobe.
Reportedly, in the early days, the bold clothing choices often worn by the band whilst performing on stage were always designed to be eye-catching and out of the ordinary. This was not only to bring publicity and attention to the band, who were the one of the first pop groups to emerge from a non english-speaking country, but also to allow the cost of the clothing to be deducted from tax, as it was clear to see that the striking clothing was not for everyday use.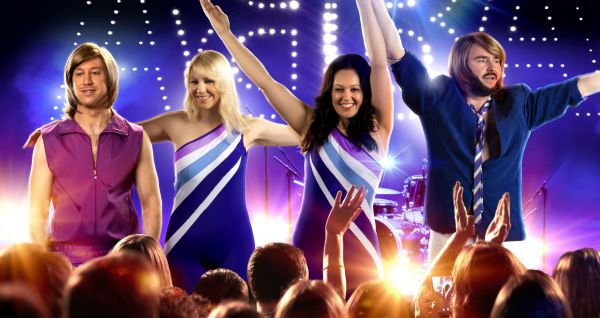 Over the years, the band has experimented with many different fashion styles and techniques, with particularly notable pieces including jumpsuits, metallic high knee boots, floral kimonos and stripy ponchos. The genius behind the design of most of these outrageous outfits is a designer and teacher known as Karl Owe Sandström, along with his partner Lars Wigenius in the firm Artist Dressing.
During the band's 1979 European/North American tour, Sandström worked alongside stage concept designer Rune Söderqvist to develop one of ABBA's most iconic costumes – the spandex catsuits. The colours used for them were White, Blue, indigo and Purple, and according to Sandström, they looked at "Several hundred shades of those colours" before sending fabric swatches around the world to check that the colours used would display correctly on the various TV systems. Staging wise, behind the group stood several giant , triangular shapes, resembling icebergs, which gave the performance an icy nordic feeling and reminded the audience of the band's Scandinavian origins. This design later inspired the logo for the band's record label "Polar", founded by the manager of the band, Stig Anderson.
As an ABBA tribute Band, our favourites are the Spandex Catsuits worn by Agnetha and Anni-Frid (and Bjorn!) throughout all of their performances of the '79 tour, and have been replicated by many others including Madonna, who paid tribute to the band during her performance of songs "Erotica/La Isla Bonita" on her 2006 "Confessions" tour.
Today, these very costumes can be found on display at the ABBA museum and also the alternative white themed versions appear on silicon models of the four members, which were flown in by helicopter in 2015 after the group were added to Sweden's music hall of fame in the previous year. This artistry of a band whose costumes and concept design was way ahead of their time are still loved and replicated to this day.